Erasmus project SPOTit - Combatting fake news in social media ends in January 2023. The project brings very interesting and useful results for youth workers and all other stakeholders who work with young people in the field of media literacy and combatting fake news.
As part of the project, partners from Estonia, Slovenia, Greece, Cyprus and Ireland developed a training package on media literacy aimed at youth workers, youth organizations, non-governmental organizations and people working with young people in general. Based on this, we created a Massive Open Online Course (MOOC) for their professional development with the aim of educating and supporting them to be able to support young people in developing their critical thinking skills and media literacy competencies. Directly for young people, the SPOTit team has created digital escape rooms, which are challenge-based resources and an innovative learning resource that makes learning more engaging for young people.
We presented the mentioned results at the final conference of the SPOTit project, which took place on January 19, 2023 in the city of Parnu, Estonia. The conference, organized by the project coordinator Forwardspace, took place in the HUUB Youth Innovation Center, where interesting contributions were made by representatives of the Estonian National Library, which plays an important role in the media literacy of young people, and the University of Turku, which conducts research in this field, as well as individuals from the world of vlogging and local television.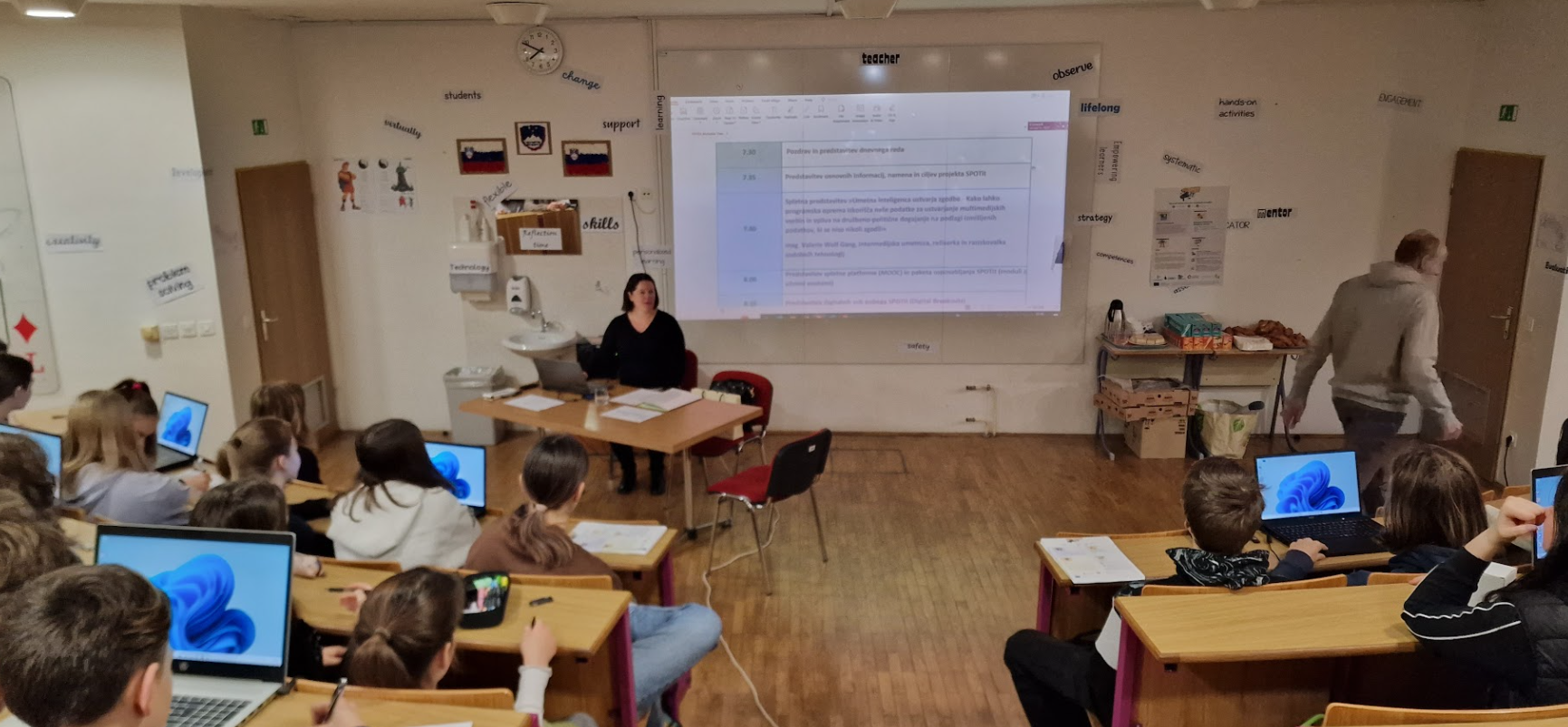 We also presented the main results at the Slovenian multiplier event, which took place on January 25, 2023 at Gradec Elementary School in Litija. The event was attended by over 70 participants from various target groups of the project: young people, youth workers, teachers, public institutions, etc. The participants got acquainted with the contents of the modules and learning units in the training package and the contents of the six escape rooms, and also had the opportunity to attend an interesting online lecture by an intermedia artist, director and researcher of modern technologies, M.Sc. Valerie Wolf Gang. They also watched one of the two videos on the topic of fake news, which were produced by the Project Learning of Young Adults (PUM-O) Ljubljana group.
The mentioned results, which are available free of charge in all partner languages, are published on the project website https://spotitproject.eu/en/  or the e-platform at the link SPOTit - E-Learning (spotitproject.eu)  They are intended for everyone who is involved in youth work and is interested in combatting fake news and media literacy of young people. You are welcome to use and spread them among all interested users!